New Urban Resort and Casino Parq Vancouver opened the doors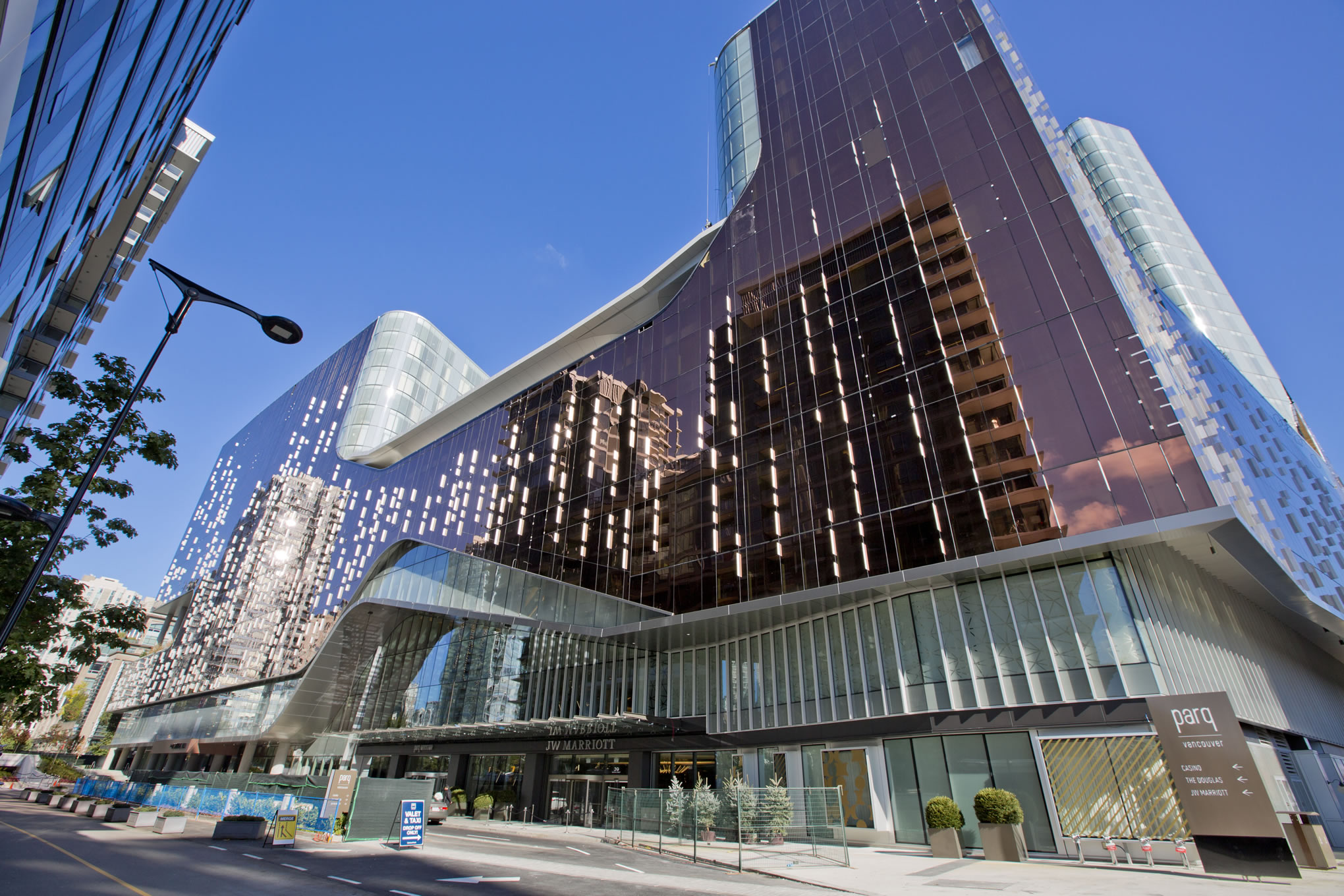 The long-awaited Parq Vancouver, a brand-new urban resort with hotels, restaurants and a casino, opened to big crowds. After many years, a few controversies and hundreds of millions of dollars in the making.
The LEED (Leadership in Energy and Environmental Design) Gold standard resort complex is the newest addition to Vancouver's skyline, facing the False Creek in the growing entertainment district between Gastown and Yaletown, next to iconic B.C. Place. It connects directly to BC Place's Gate G as well as the neighbouring Rogers Arena. Parq Vancouver is an important new build for the city and British Columbia's largest private development.
On October 23, bookings for Parq Vancouver's two Marriott properties – the luxury-branded JW Marriott and the DOUGLAS, an Autograph Collection hotel – will officially make more than 500 new rooms available in Vancouver, a growing international tourist destination that hasn't seen much new hotel growth since the 2010 Olympics.
The JW Marriott is the first in an urban location in Canada, and the only one in Western Canada. The rooftop Spa by JW is another first for Canada.
The smaller, boutique-styled DOUGLAS, named after the tree that put BC on the map, has design innovations like a glass-enclosed full-scale replica of a Douglas fir trunk as the front desk.
On the sixth floor between the two hotels is 60,000 sq. ft. of meeting and conference space that includes the city's largest hotel ballroom, plus a 30,000-sq. ft. outdoor park with water, patio and garden features that incorporate16,000 plants and more than 200 grown trees.
Parq Vancouver's food-and-drink venues are operated by James Beard award nominees Blau & Associates, a Las Vegas-based team headed by restaurateur Elizabeth Blau and her husband, Canadian chef Kim Canteen Walla.
Their project, which has already made a splash as the biggest premium dining launch in Vancouver history. Flourishes include a tea selection curated by New York tea sommelier Kathy Y.L. Chan, as well as a lobby-level version of the "farmhouse chic" family-friendly Honey Salt restaurant Blau popularized in Las Vegas. On the second level of the casino, the upscale Chinese restaurant named for the year Chinatown emerged in Vancouver, 1886, will be helmed by Michelin-starred chef Richard Chen for a couple of months following the opening.
The casino on the second and third floor levels features 600 slot machines, 75 table games, a poker room, and 11 exclusive salons offering a private gaming experience. A wall of floor-to-ceiling windows in the 72,000 sq. ft space lets in a flood of natural light, setting up a relaxed daytime vibe that is unusual for most casino environments but typically characteristic of Vancouver.