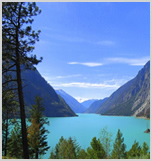 Itinerary:Four seasons alpine mountain resort Whistler just 125 kilometres away from Vancouver.

Through the scenic drive along the Sea to Sky highway, which winds between waters of Howe Sound and Costal Mountains with glaciers, where the mountains leap from an ocean floor, ancient cedars stretch till the sky.

You will stop at the Shannon Falls and Brandy Vine waterfalls. In the charming village of Whistler with art galleries and shops, restaurants and cafes you can enjoy the rest of the day.
Price from
$129 + Tax
Daily Departures