Sea to Sky Gondola 1 year Anniversary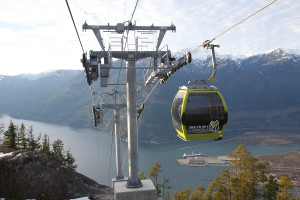 Saturday, May 16th Squamish Gondola will celebrate One year anniversary! Come out and celebrate!
At an elevation of 885 meters, the upper terminal area offers two walking trails, three viewing platforms, a Sky Pilot suspension bridge, and a lodge with a restaurant and a bar, teahouse, and a gift shop. You will enjoy vistas of the Chief, Howe Sound, Sky Pilot Mountain, and Atwell Peak.
The 10-minute ride to over 885 meters above sea level is comfortable since each enclosed cabin takes just eight people (all seated), and plenty of the cabins ply the route. You ascend higher than the top of the Chief, allowing a taste of what rock climbers see without clinging to sheer granite for dear life.
The view from the top is like nothing you've ever seen before, you see Squamish River meets gorgeous blue-green Howe Sound ocean waters, the snow-speckled Sky Pilot and Copilot mountain peaks. A 100-meter-long suspension bridge leads you to another viewing platform, which links up with the 1.6-kilometer Panorama Trail.
You can join the celebration 12-3pm for live music, crafts, guided tours, treats and to write a letter to yourself for our 10-year time capsule. Remember to bring your photo of a moment at the gondola for time capsule!