Canyon Lights at Capilano Suspension Bridge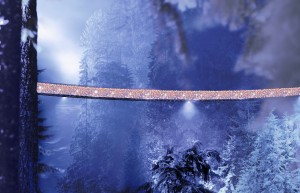 Park guests will be dazzled by the thousands of lights glittering throughout the rainforest, across the Suspension Bridge and on CLIFFWALK, the Park's newest attraction. A children's scavenger hunt, gingerbread cookie decorating, sing-a-long carols with the holiday band and glass blowing with Malcolm Macfadyen are all back by popular demand!
Canyon Lights runs Saturday, November 30, 2013 to Saturday, January 4, 2014. Park hours are 11:00am – 9:00pm. Canyon Lights tickets are valid all day with holiday activities beginning at 4:00pm. Capilano will be operating free round trip shuttle service from Canada Place.
http://www.capbridge.com/october-9-2013/